Federal P9HST5S Premium Personal Defense Micro 9mm Luger 150 gr HST Jacketed Hollow Point 20 Round Box
Federal Premium Personal Defense HST Ammunition has been specially designed to deliver consistent, tremendous expansion, optimum penetration and superior terminal performance. The specially designed hollow point will not plug while passing through a variety of barriers and the jacket and core hold together providing nearly 100% weight retention! This ammunition was engineered to meet or exceed  ammunition testing protocols; these protocols put bullets through 10% ordinance gelatin, steel, wallboard, plywood, laminated automobile safety glass and gelatin covered in heavy clothing and measure how well the bullets penetrate, expand and hold together.
Subcompact handguns' sleek, lightweight designs make them an ideal choice for concealed carry. But to perform to their peak, they need the right ammunition: Federal Premium Personal Defense Micro HST. The line provides consistent expansion, optimum penetration and superior terminal performance with bullet weights and propellants optimized for the most efficient cycling and accuracy in subcompact handguns.
One of the great things about this ammunition are high quality features that make this ammunition perfect choice for self-defense ammunition. Each round of ammunition is loaded into a Federal Premium nickel plated brass case with waterproofing on the case mouth and primer. Every load has a consistent powder charge and reliable primer for consistent ignition. Every HST bullet features a tapered jacket profile for reliable feeding, a cannelure that locks the copper jacket to the lead core, patented co-aligned internal and external skiving and a deep tapered hollow point that will not clog.
Features
Clean-burning, low-flash propellants
Heavy bullet and lower velocity decreases felt recoil and noise
Expanded diameter and weight retention produce the desired penetration for personal defense situations without over-penetrating
Bullet nose profile, nickel-plated case and Federal's unique primer provide the ultimate in function and reliability
Optimized for less felt recoil, more reliable cycling and better control with subcompact pistols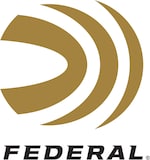 Made In United States of America
Got questions about this product?
Head over to our contact page and give us a call or shoot us an email! We are happy to answer any and all questions you might have about any of our products. Thanks for choosing Green Acres Sporting Goods!